Please click on the painting to get back to the art page.
UNDER CONSTRUCTION
Mondrian Series
North Sutton, NH – 2014
Acrylic on canvas, 24″ x 24″
White Floater Frame
"Scaffolding blue, trim black,
Plywood tan
And reflecting glass;
Under construction."
---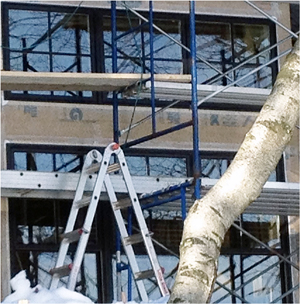 During the winter/spring of 2014 while in St. Pete I studied Mondrian. His paintings have always surprised me by how much emotion he generated from what could be easily described as a cold and calculated set of intersecting lines and geometric shapes. He almost always used primary colors and I wondered what I might be able to do with a more neutral palette. Could I take an idea from a rural or urban setting and transform it into a set of simple geometric patterns that evoked the original picture or idea?
This painting, the second in a series of four, is based on a photograph I took of our retirement cottage that was under construction. The image was rotated 90 degrees to the left and simplified with the red dot in the ladder exaggerated and complemented to help make the painting swirl visually into the middle.