Please click on the painting to get back to the art page.
TO BE LOVED
North Sutton, NH – 2015
Acrylic on Canvas, 24" x 24"
SOLD
"How do we connect and why?
I wish to be strong,
But even more so,
To be loved before I die"
---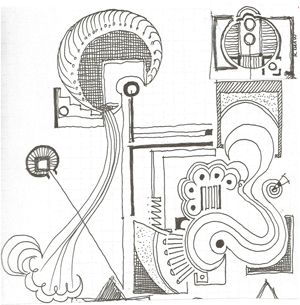 This painting was initiated in New Hampshire and completed at my winter studio in Florida.
A number of years ago I went through treatments for laryngeal cancer (and I'm not a smoker). Then our oldest daughter was diagnosed with an advanced stage of breast cancer. After her treatment she came to stay with us in Florida and recuperate. Confronted with such a potentially huge loss I realized how important love and connection is in my life. I wanted to try and express this is my own strange way; thus the painting.
This canvas started as a doodle but as it grew and started to express itself in color the contrapunal of pink vs blue made me think more and more how lucky my daughter and I were to have come through cancer and survived the black beast cancer. And how lucky we are to have each other in one another's lives.