Please click on the painting to get back to the art page.
MANY ROOMS
Acrylic on canvas, 48" x 48" – 2017
"In Many Rooms I've been
As I look back in wonder;
Transitions and connections
Yet my life unfolds again."
---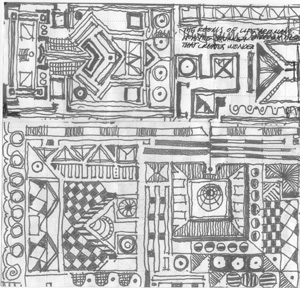 The source of this large painting is an 'automatic drawing' that was created without thought and therefore reflects the subconscious of the drawer.
A number of paintings start this way. I take a doodle, expand it, in this case to 4 feet by 4 feet, refine it, and as I work on the basic design I ask myself what is it saying to me? In this case I felt there were four connected rooms or quadrants. The story starts at the lower left and ends in the upper left; an expression of my life's Many Rooms
The lower left is the
Beginning
with my parents falling in love, combining their DNA's and having my brother and me. The lower right is about travel from England, schools, learning, growing, and experiencing
Love's Bite
.
Three different colored circles, Life's Reward – our children, connect to the upper right. This is my multifaceted career that included land planning, landscape architecture, and residential architecture, which is now being continued by my partners while I take another path. And the final upper left room is the present; my awakening to the power of visual art and my search for life's meaning as I prepare to Return to Source
We come from the dark, into the light and then return. The complexity, joys, and sorrows of one's life are along a red path through Many Rooms.