LIFE ROOM #4: RETURN TO SOURCE
Ink on paper, 22" x 30"
Another direction now seen
And so I return to source;
Art an expression complex,
Of what I seek."
---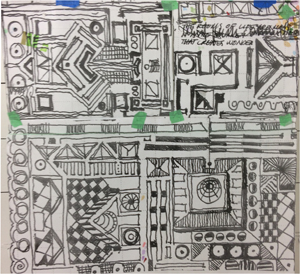 Initial Four Quadrant Sketch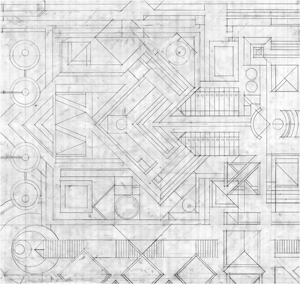 4th Quadrant Drafted Drawing
The left-hand sketch represents all 4 quadrants for an eventual large painting. The upper left quadrant is about a "Return to Source." Because the initial sketch was so geometric and complicated it was enlarged, hard ruled, and further interpreted. The right-hand drawing shows how the sketch for the last quadrant evolved during this phase.
The importance of art for human expression and understanding is a key for me.
The intention is to show how in the twilight of my life I am most interested in exploring what I believe and how best to express those ideas, concepts and truths.