JAZZ TIME
St Pete, FL – 2015
Acrylic on Canvas, 24" x 24"
SOLD
"It's jazz time
A five-finger exercise
So come blow your horn
And feel fine"
---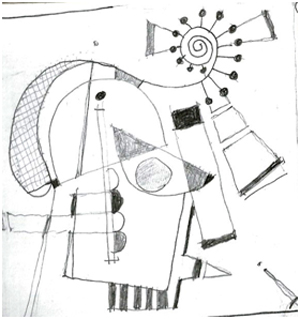 Soft curves versus hard lines; intersections, overlaps and penetrations; music and motion; the idea of misdirection, balance amid confusion, centeredness and evolution; friction, horns and strings, energetic expansion and release.
As I painted, this sketch evoked such emotions in me. A visual expression with multiple meanings, like jazz and life.
An interpreted freehand-sketch, in which several subconscious constructs bubble to the surface.
The colors are almost primary but not quite, the shapes are both organic and structured, there is discordance and harmony.