IS GREEN
St Pete, FL – 2015
Acrylic on Canvas, 24" x 24"
Maple Floater Frame
SOLD
"So varied yet constant it is,
Easily everywhere it seems
But for me 'tis a visual trial
Such an elusive color is green"
---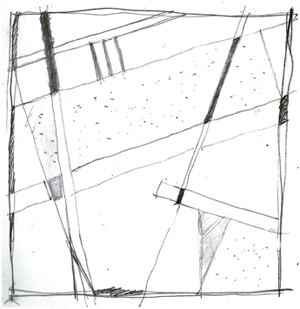 As a retired Landscape Architect, it may seem strange that I find green a difficult color to paint with.
If the shape is curved and green, then what I am painting must be vegetation, right? But I don't want to generate such an immediate reaction, so I try not to use green to represent trees, shrubs or grass.
But the color palette that nature has is so wonderful, so diverse, and subtle that it is hard not to want to represent some of these green scenes. However, the subtleties are hard to hold on to, and mud is such an easy result.
This painting continues with the angular imagery of 2015 while at the same time representing my effort to express the colors and relationships so often seen and felt in the woods, in meadows, among hills, or amidst mounds of moss.