Please click on the painting to get back to the art page.
FLAG DAY PARADE
NH and St Pete, FL – 2013
Acrylic on canvas, 30" x 30"
SOLD
"And through our small village
Down the main road
They march with pride
In our flag day parade."
---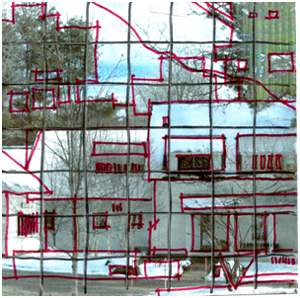 It may be hard to understand how this photo idea wound up as Flag Day Parade. My initial intent was to use the whites, blues, tans, greens and dark windows and doors as blocks of color. But the drawings stopped mid winter when we left for Florida. I was still thinking about layers but also reminiscing about the July 4th parade our town has just down the road from our house. I toned down the initial blocks and then started doing gestural drawings of shapes, and images that the parade brought to mind and the final mindscape painting resulted.