Please click on the painting to get back to the art page.
DEEP SHADE
Summer Day Series
Newbury NH, 2012
Acrylic on canvas, 24" x 24"
SOLD
"A summer day in deep shade,
Dappled and coalesced;
Purple granite at pool's edge
Cool my tired feet."
---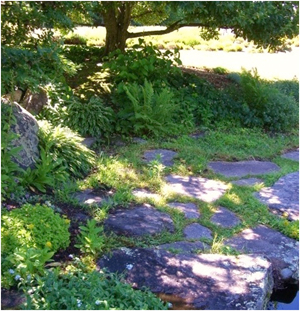 I participated in an Artists Weekend the summer of 2012 doing plein-air painting at The Fells Historic Estate in Newbury, NH where I did two paintings.
Deep Shade was done along side the main pool in the rock garden. As usual, I rotated the painting and focused on the dappled purple shadows of the granite paving stones and the shade created by the nearby old pine tree. I tried to contrast these cool elements with the bright almost white sunlight patches near my feet and in the meadow beyond.