CULTURES CLASH
Acrylic on cradled board, 24" x 24"
2018
"Cultures Clash with the now,
New communities to create
Changing is hard to allow
But this is what makes us great."
---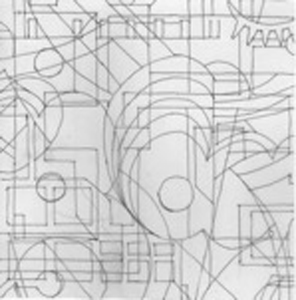 This piece is based on several overlaid small sections of the TRIBES painting using the same paint colors. The tracing below shows the initial forms used.
However, it is much more dense than the original with colors clashing and pushing against one another as new cultures enter the fray. The underlying blue/gray and rectangular patterns represent the current cultural/political structure.
The larger curves represent the push and pull of the new cultures entering and finding a place. Their shapes (culture) are different than ours
As in the TRIBES painting the colors represented the skin colors of different cultures but here the dark brown underlying spaces that dominate are the difficult and dark times in which we live.
There is hope in the orange and yellow but there is also a darkness that cannot and should not be ignored