Please click on the painting to get back to the art page.
ASKEW
Mondrian Series
St Pete, FL – 2014
Acrylic on canvas, 24" x 24"
Maple Floater Frame
SOLD
"City blocks, streets, and alleys;
Sidewalks and crossings;
Layer upon layer;
Slightly askew."
---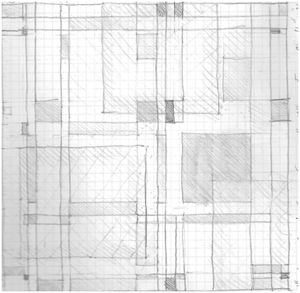 During the winter/spring of 2014 while in St. Pete I studied Mondrian. His paintings have always surprised me by how much emotion he generated from what could be easily described as a cold and calculated set of intersecting lines and geometric shapes. He almost always used primary colors and I wondered what I might be able to do with a more neutral palette. Could I take an idea from a rural or urban setting and transform it into a set of simple geometric patterns that evoked the original picture or idea?
This painting, the third in a series of four, is based on my sense of our Florida neighborhood. The sketch, reflects busy edge and quiet local streets; sidewalk crossings where people stop to talk. The richer and poorer; bigger lots and small; all mixed together; fitting or not, making a delightful quilt. A patina of history: adjustments, additions, replacements; old and new – just our cup of tea.